As construction booms, Seattle Washington tops the nation in tower cranes for the third straight year. Downtown Seattle has 65 construction cranes working on projects to redefine the city skyline, and the development of new skyscrapers and burgeoning housing and infrastructure is expected to continue with more jackhammering and concrete pouring.
Construction sites workers generate waste as they labor throughout the day. How do you get your material waste – including cement, rebar, and lumber – that piles up at the top of a 70-story construction project down to the ground? How do you get building materials from the ground to the top of a half-constructed building? By making use of the tower crane to hoist a construction skip box.
Fabricating Durable Skip Pans
A crane skip box is a large open-topped container picked-up by overhead cranes via their 4 eye hooks to transport waste and other materials high overhead.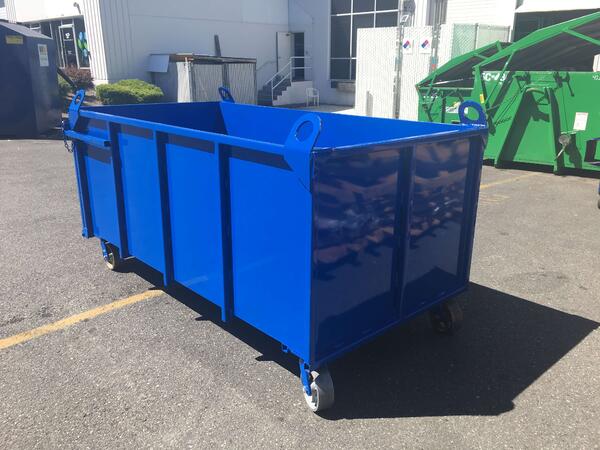 Recently, one local Seattle construction contractor needed skip bins, but with the increased demand for cranes has also come the increased demand for these steel waste containers. When their normal supplier could not provide these crane skip boxes, this Seattle contractor came to Naimor, Inc. to see if we could fabricate them.
We designed these construction site skip bins to have a long service life and durability using high strength alloy metals, as well as high load 8" wheels for easy maneuverability. In addition, these boxes are finished with a durable, rust inhibiting, powder-coated finish capable of handling the mean construction environment.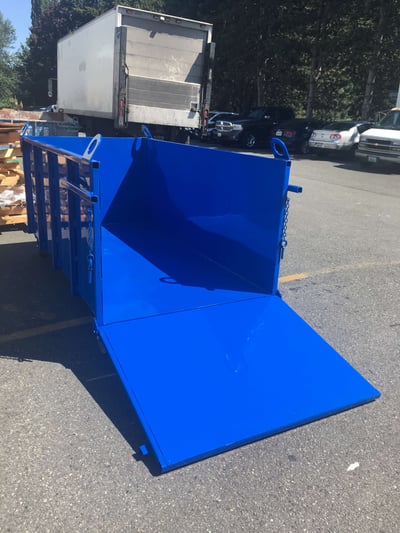 The skips pans featured safe, four-point pickup eyes for cables, reinforced stress points for load security and safety, and a large door that hinges down at one end to allow manual loading and unloading of hard to handle items. No matter how you look at it, these bright debris boxes are the perfect tool for moving loads around the construction site or workplace.
Get a Free Quote
Metal skip pans handle the job perfectly, easily and safely. If you're in need of durable skips pans for your job site, contact us today for a free quote.