CNC routers are extremely precise cutting machines that are used in many distinct industries. A cylindrical bit with cutting edges controlled and operated by specialized computer software spins at high speeds and carves away unwanted material to create curves, rounded edges, or precise depths.
Naimor, Inc. uses CNC routers for a variety of projects, but they are especially suited to architectural fabrication projects for the following reasons.
1. Capabilities
CNC routers help companies save money on materials, reduce wasted manual labor, and obtain high-quality parts. The ability to better utilize raw materials by orienting parts for maximum efficiency creates much less material waste that traditional cutting methods. The reduction in waste results in exponential savings when the CNC router is automated to cut hundreds or thousands of parts.
2. Versatility
CNC routers can create a wide range of different-sized parts out of a wide range of materials, from non-ferrous metals to plastics including both HDPE and UHMW. The routers can cut a huge variety of parts and items, ranging from aluminum boats to ornate privacy screens, from automotive parts to metal tables, and much more.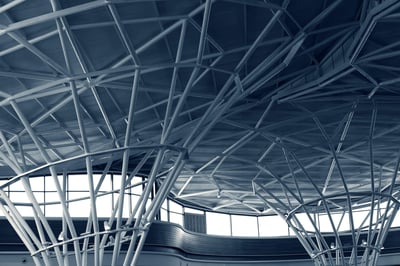 CNC cutters are extremely flexible – programming enables it to adapt to any project quickly and efficiently at the touch of a button. No matter the project size, using a router cutting service will get it done easily with little complications.
Uses in Architecture Fabrication
CNC routers can be used to create and implement very intricate designs into architectural projects. Architects are using CNC cutters in computer guided production, attracted by the higher precision, faster manufacture, and lower costs.
CNC routers also allow architects to fine-tune their building designs down to simple building block projects, blending technology, mathematics and art to create never-before-seen shapes and new uses for familiar materials. From beautiful geometrical shapes to intricately-layered panels, more than ever before the CAD software CNC routers are driven by has made it easier to translate a 3D model into 2D planes fit for faster assembly.
Guidelines for Submitting an Architectural CNC Project
If you are at the point where you have an idea of the size and scale of the project, and what type of material you would like to use, it's time to look at precision parts, assembly, and delivery.
Materials – Our CNC router can drill, route, cut, and countersink woods, plywood, laminates, foam, MDF, plexiglass, aluminum, brass and copper. This is not a complete list of material possibilities, however; our engineers can help you with the best material for your project.
Size Limitations – We have a router bed size that is 8' x 10' or a maximum cut area of ~ 96" x 363". If the material is repositioned on the table, we can cut up to 420" in length. These dimensions are approximate to how the raw material is fixed to the CNC table.
Height Limitations – In theory the machine has a maximum height of 8". This is rarely achieved due to circumstances such as length of the bit, stock size, and Z axis clearance, etc. To date, the thickest we have cut is 6". Our engineers can help explain in detail possible limitations of your project.
Digital Modeling Process
We use Solidworks as the primary software coupled with MasterCam to write G-Code (G-code is the language that instructs the CNC machine how to move). You can model in any software and it will be compatible with Solidworks if the files are exported and saved as one of the following vector file formats: STEP, DXF, or DWG.
You will have a better finished project if your files are clean. The key is to make sure that all lines are connected, on the same plane, and do not contain overlaid lines. The cleaner your file is, the better the parts will be machined; if you have patched multiple surfaces, the possibility of holes in the surfaces will cause the software to fail to find a machine path and give up. Don't forget to double check your file before submitting.
Milling Process
At this point you should have a 100% complete file ready for the engineer that knows your project. They will open the file and process it through the MasterCam software. This will tell two important things:
The model is good and will work - it is very difficult to go back and machine a file onto an already previously milled piece. It can sometimes be done, but we want to always get it right the first time.
How long it will take to machine. At this point we can give you a firm timeline to complete the project, based on how long it will take to obtain the raw material.
What to Takeaway
CNC routers are a clear choice for your next architectural project. They are precise, efficient, and versatile, and can be used for a huge variety of projects. Furthermore, they reduce manual labor, reduce production costs, and are more far more accurate than normal machines.
Here at Naimor Inc., we pride ourselves on our high-quality CNC routers; we have helped many architectural clients produce the perfect parts for their ventures and undertakings.