Naimor has recently contributed to one of Seattle's newest and most exciting community projects, the Yesler Blossoms. These magnificent sculptures stand as the centerpiece of a small park north of Yesler Way, in a new pedestrian walk that links Jackson Street and Harborview Hospital.
The Yesler Blossoms were developed for the local community to celebrate the area's rich cultural history. With the help of our team and input from the community itself, the artists (Alessandra Panieri and Dan Barsher) created a unique piece inspired by the local residents' love for gardening.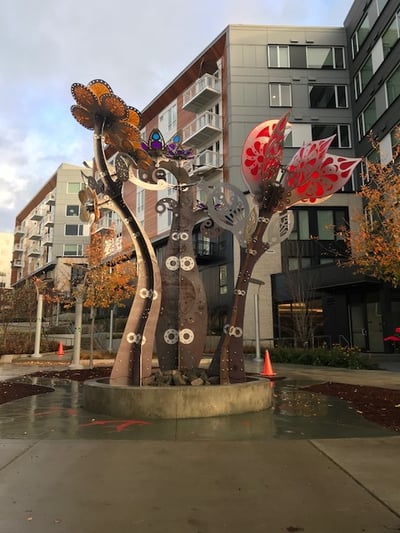 What Do the Yesler Blossoms Stand For?
The three flowers or "blossoms" represent the local residents' relationship with certain plants, but these amazing structures have a much deeper meaning.
For instance, the artists implemented original paving stones that were collected from the old Yesler Terrace in order to pay tribute to the historic neighborhood. The use of the cardinal directions commemorates cultural diversity and the prominent roots represent the area's strong connection to its identity.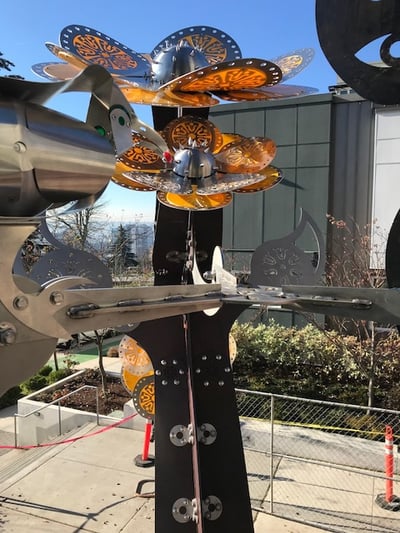 Naimor's Participation in the Project
The sculptures consist of three flower-shaped, metallic structures that are made of stainless steel, corten steel, and aluminum. All of the pieces range from 13 to 17 feet tall and they are perched on a concrete base to provide a sound structural framework.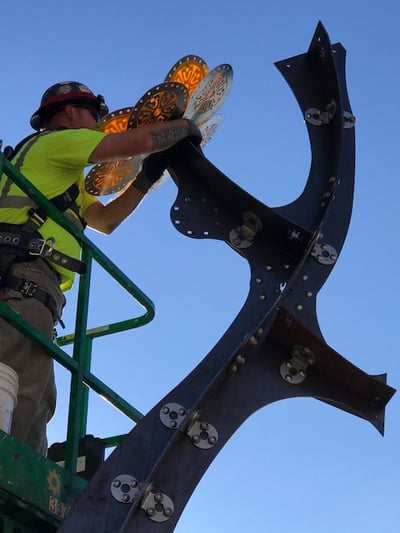 Our engineers participated in the creation of the sculpture's framework as well as the seating areas that allow pedestrians to relax and enjoy the view. Moreover, we also helped develop the metal mosaic decorations that adorn the Yesler Blossoms and give them a modern appearance that can't be found anywhere else in The Emerald City.
Get in Touch with Naimor Today
Interested in learning more about our metal fabrication capabilities? Get in touch with us today and our team will be happy to help.