Architectural metal work gives form and function to design inspiration, transforming the look and feel of residential and commercial spaces. Because of this, quality architectural metal fabrication is a major part of any structure.
Ensuring Quality Architectural Metal Fabrication
At Naimor, we've put together a process over the years to ensure that our clients receive the quality parts they need when turning an architectural concept into reality. To do this on time and within budget, we take the following steps:
Consultation
We begin the project by gaining a full understanding of your design objectives and aesthetic goals through consultations with your staff. Our clients are at the center of everything we do — and our architectural metal fabrication process is focused on supporting the client from initial estimating and design, all the way through fabrication and on time delivery. The consultation process provides you with the information you need to control costs, and ensures we have all the information we need to move forward in a timely manner.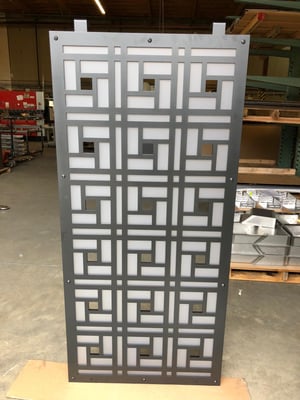 Estimating
Our bidding specialists focus exclusively on estimating metal fabrication projects. To speed the estimation process on a time sensitive projects, be sure to separate sheet metal parts from other materials on site drawings. This will save you money as we will not need to spend time breaking down complex projects to find the details we need for shop drawings.
Before we do drawings as part of the consultation process, we give our professional recommendation and find a way to make sure the materials, structure, and labor fits the client's budget. Whenever possible, design for and use standard sheet sizes. Standard sizes are typically lower priced than requiring special lengths. Also, ask about the current market conditions to see if one size or material is cheaper than another at the time of your order. 

Shop Drawings
Next, the idea or concept is turned into a shop or CAD drawing — which includes precise measurements — for a cohesive understanding between us, the client, the architects, and the engineers involved. Providing us with a universal file format such as DXF and DWG flat patterns or step files simplifies the design process, and the overall cost can be greatly reduced. The cost for raw materials is usually only a fraction of the total fabrication price; the main cost is labor. A key to successful controlling costs is to make sure that shop drawings are correct the first time around. 

Fabrication
Naimor, Inc. employs some of the most experienced metal fabrication professionals in the industry. Our craftsmen are passionate about their profession — and it shows in every architectural detail. To many, metal fabrication may seem like a simple one step process, but it is much more detailed and comprehensive than simply pulling metal pieces off the shelf.
For most jobs, metal fabrication involves several steps before the process is complete such as:
Laser or router cutting
Forming
Welding
Finishing
It's the careful planning and execution of these steps that ultimately determines lead time, so be sure to keep this in mind whenever you need a job completed in a hurry.
Materials commonly used in our projects are metals, stainless steel, and aluminum. We've done a great deal of custom metal fabrication work, including coffee tables, residential staircases and wall panels. We've also manufactured small and large orders of metal brackets, HVAC systems, roofing and ceiling grids. Visit the featured project page to see some of the projects that have been completed. 

Delivery
At Naimor, we regularly work with several proven local, regional, and national carriers to find the best rates and transit times. However, limited access or non-commercial destinations such as construction sites can mean extra charges for shippers. We can deliver locally along the I-5 corridor to your job site, saving you these additional freight fees.

See What it Takes
Naimor, Inc. works with you to develop your idea from concept to completion. Our talented team includes sales, estimating, project management, engineering, and fabrication crews, all working together to build your vision. Send us your architectural drawings for a quote today!