There are 4 major costs involved in building an aluminum boat from design to construction: design, cutting, shipping, and building. As the saying goes "time is money" and the ability to work efficiently in each step of the build process will save you money and make the boat building experience a more enjoyable process.
Reducing the Cost of Your Aluminum Boat Build
What are some ways that you can reduce the costs associated with aluminum boat building?
Design
There are a couple of different ways in which you can design your boat. You can come up with a concept of your own and have a boat designer (such as Bruce Cope at Cope Aluminum Boats) turn the idea into a set of plans for you, or there are many aluminum boat design companies that provide stock designs for welded aluminum boat builds.
Even if you are building from plans, you can still make plenty of changes and tailor the boat to fit your needs. Specmar is one such firm that offers several models of welded aluminum boats from 14 to 40 feet and charges a simple design license fee for detailed assembly drawings, written assembly instructions, and CAD ready files for computer guided cutting.
Router Cutting
CNC router part cutting makes the boat build easier, speeds boat production, and makes a lot of sense financially. Having your aluminum boat cut with CNC machining gives you a tight tolerance and machine quality parts with an extremely clean edge for fabrication. Details such as notches, form lines, and item part numbers can be included on parts, thereby speeding up fabrication, increasing accuracy, and minimizing rework.
Another benefit of automated cutting is that parts can be nested. Nesting is orienting parts to fit on one or more sheets of material. An experienced CNC programmer can take computer lofting data and strategize nesting parts together based on functionality of the router, available sheet size, and nature of loading. An intelligent nest can mean greater material efficiency, fewer tool changes, shorter tool path and reduced cutting time. By creating an efficient layout, material waste is minimized and cutting costs reduced, resulting in a significant savings for the client.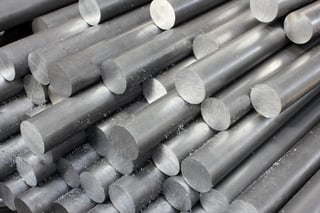 Many aluminum boat builders use different aluminum alloys for different applications. For hull bottoms and side sheets, 5083 and 5086 alloys are used. They're formable, easily welded, and extremely corrosion resistant. They have the further advantage of achieving their strength without heat-treating, meaning that when welded they maintain most of their mechanical properties. Of the two, 5083 is the stiffer, favored for decks and topsides, while 5086 conforms more easily to curves on the underside of the hull.
We routinely source materials to maximize sheet utilization and lower costs, and if we can find an alternate alloy to save money, we pass those savings along to our clients. For example, 5052 aluminum which has a lower price point that other marine alloys, maybe substituted for 5086 if parts aren't below the water line.
About 40% of new power boats sold in American are made from aluminum. The announcement of a 10% tariff on aluminum imports from most countries by the Trump administration has had the marine aluminum supply chain buzzing in recent days. A 60% tariff on aluminum sheet from China could happen as early as April according to Thomas Dammrich, president of the National Marine Manufacturers Association. Aluminum prices have been rising in anticipation of less foreign material coming into the United States. According to Eric Engebretsen of Bay Weld Boats in Homer Alaska, their local aluminum sheet suppliers have increased prices as much as 35% in some cases.
Aluminum prices vary for a variety of reasons, and tariffs are only one variable. Historically, aluminum prices are down from a high in 2011 as metal production has increased. Using common stock sizes of alloys and smaller sheets will help with pricing, scheduling and stock availability.
At Naimor metal fabrication, we work with several aluminum suppliers and order large quantities of material annually. We then bring our economy of scale to our client base. We can source aluminum from our extensive supplier base to quickly fulfil orders and ship parts anywhere in the country, meeting strict delivery deadlines.
Shipping
As a boat builder, you may be wondering how shipping cut parts will affect boat build costs. The current supply environment may affect regional differences in metal supply costs, and savvy buyers can find economic advantages. Minimizing freights costs is always a necessity, no matter the political or economic circumstances.
Optimizing the pallet space to slim down the dunnage and reduce shipping costs is an art. Packaging and stacking while protecting product can all make it easier to get more cargo on a pallet and help the carrier maximize utilization of trailer space. Less space on a truck means lower freight costs. At Naimor, we regularly package parts for pallet shipment and include this in our service.
Bidding out your Less-Than-Truckload freight is a good idea to be able to align your needs carriers that have the best price point. Many regional carriers typically have a lower price point in local geographic areas. For one time shipments however, you may not have access to multiple carriers for comparisons. At Naimor, we regularly work with a number of proven local, regional, and national carriers to find the best rates and transit times.
Building
Some builders prefer specific materials (i.e. metal or wood), or only build up to a certain size. Most boat designers can provide clients with a list of qualified builders suitable for the project. With a good set of plans and build ready boat parts, a builder can provide the prospective boat owner a more accurate estimation of the build costs.
Highly accurate router cut boat parts with markings can save the builder a substantial amount of fabrication time. A builder experienced in your boat design will have good familiarity with the fabrication process.
The Boat You're Looking For
Knowing where you can cut costs and save time when it comes to these 4 steps of aluminum boat building will make your boat build easy and enjoyable. With less unknowns in the process, your vessel will have a better structural and professional finish as well as a more economical build, getting you and your new aluminum boat out on the water that much sooner.