What is a CNC Router?
The CNC Router is a cutting machine that is controlled by a computer numeric control unit. Check out our blog post for an overview of what CNC is.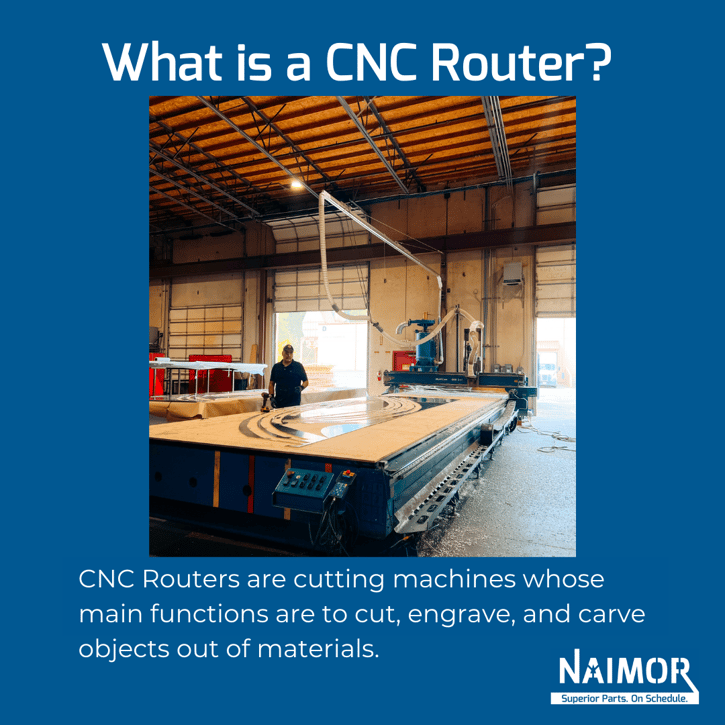 The CNC processor controls the way the tools move in order to cut and shape the desired material. The main functions are to cut, engrave, and carve objects out of materials.
CNC routers aren't designed to cut hard metals like steel. They are used to cut softer materials such as plastic, foam, and wood. Some routers, like those here at NaiMor, can also work with soft metals, like aluminum, copper, and brass.
They are also exceptionally fast, and can produce exact, accurate, and complex shapes and contours with a high degree of repeatability.
CNC cutting machines can be spindle or router based. Spindles and routers are similar in that they can cut a wide range of materials,using a rotating cutter, but if harder materials are involved, spindles are a better option.
In comparison to routers, spindle machines have better bearings and are more powerful. This makes them more precise and longer lasting. Spindle based routers are also better for cutting aluminum.
How Does the CNC Router Work?
CNC routers vary in their build, size, and configuration. They can have one or more axes to work with and the ability to swap tools to perform different tasks.
The tools are on a "carousel" which allows the machine to change tools on the fly. Meaning there is no stopping work to change tools when different ones are needed for an individual job.
In order to keep materials on the cutting surface, NaiMor's routers use a vacuum seal. This means that air is sucked down from the table top to keep materials down. So even when parts get cut, they stay on the table!
The key feature of these machines is the computer control, which moves, relates, and spins tools according to a CAD/CAM program. CNC routers can come in many different sizes, including desktop versions.
The core components of a CNC Router are:
Spindle: The cutting part. CNC spindles vary based on their cutting action, cooling method, etc.
Motor: Defines the performances of the router. Motors can be stepper motors or servo motors.

Stepper motors brushless electric motor. The stepper motor equally divides the full rotation into multiple steps.

Servo motors are part of closed loop systems. Servo motors have their torque as well as velocity guided by a servo controller. The servo controller uses a feedback device to close the loop.
Table: The CNC router table holds the material being cut. Tables are made of different materials.
Control System: The "brain" of the machine. They interpret CAD/CAM software and execute g-code programming. This tells the machine how to move and cut.
Motion Control Drive: CNC routers typically move across 3 axes with the help of a gantry: the x-axis, y-axis, and z-axis. Their movement defines the tool path they need and the associated motions (linear, rotary, etc.) that aid cutting.

X-axis: front to back motions. This is usually the longest.

Y-axis: the left to right movement.

Z-axis: the up and down movement.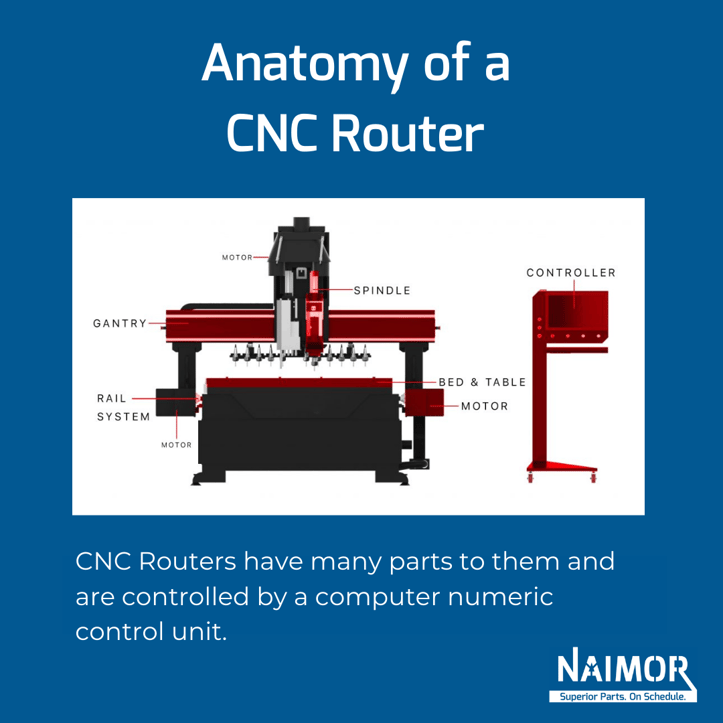 Why Do We Use a CNC Router?
Computer controlled routers help to reduce production time and manufacturing errors due to their high speed, greater accuracy, and reduced waste. They are a preferred choice of part cutting for industries where they are concerned with the heat affected zone on laser cut edges.
This leads to increased production capacity and lower costs for our customers. All of which can be a significant concern while producing high precision jobs.
Applications for CNC routers support several markets:
Aerospace

Defense

Textile

Medical

Electronic sectors

Automotive

HVAC

Laundry

Lighting

Cryogenics

Refrigeration

Renewable energy

Technology
Why NaiMor?
At NaiMor we pride ourselves on our quick response times and speedy production rates for all our finished parts. We also employ operators who have a deep knowledge base and skills to match.
At NaiMor we have two routers: one with a cutting surface of 60" x 144" and another at 96" x 360.
NaiMor guarantees top tier work, all done in house. See our blog post for further information on our CNC router services!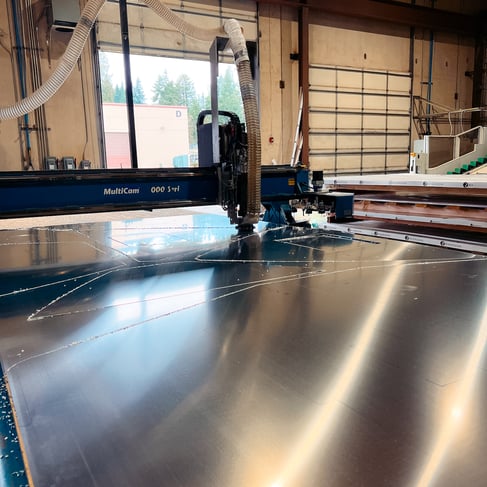 Check out our instagram for many more photos and videos of our work!