We cut these unusual shapes for one of our customers who supplied the cut pieces to a sculptor for a Public Works installation. These three dimensional sculptures are installed outside of Salt Lake City's new Public Safety Building.
The stainless steel sculpture is by the artist Buster Simpson, of Seattle, WA.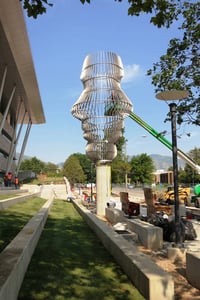 The 35-foot sculpture is made using the silhouette profiles of all the Public Safety Building's employees combined into a universal composite profile. The profile was repeated in metal and aligned in a 360-degree sculpture that will be illuminated by colorful, pulsating lights at night, which can also be used to broadcast real-time conditions or special-event information.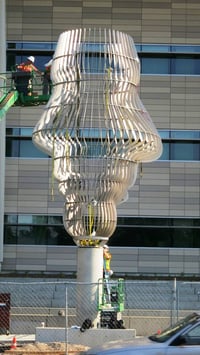 Based out of Bellingham, Washington, Naimor, Inc. boasts one of the largest metal forming, laser cutting and router cutting facilities between Everett, WA and Vancouver, BC. Its state-of-the-art workshop and technically-gifted experts have allowed it to provide the high-quality production of metal parts.