Custom Laser Cutting for the Aerospace Industry
In the aerospace industry, precision is crucial to every project. Many companies and end users in the aerospace industry hire metal fabrication companies for manufacturing and finishing surfaces and parts that fit to the micrometer. Since projects created by aerospace engineers rely on exact calculations, it's no wonder that many aerospace companies and the Department of Defense contract to laser cutting manufacturers who can provide the precise cuts they need. If you're in the aerospace industry and need a laser cutting service, this article is for you.
Laser cutting uses precise lasers to cut out a specific design. An engineer uploads a CAD file to the cutting machine's computer, and different lasers create precise cuts on any material based on the uploaded design. The process also uses melting, burning and vaporization methods to create the perfect cut on the specific material, whether you need metal, ceramics or foam cut to exact measurements.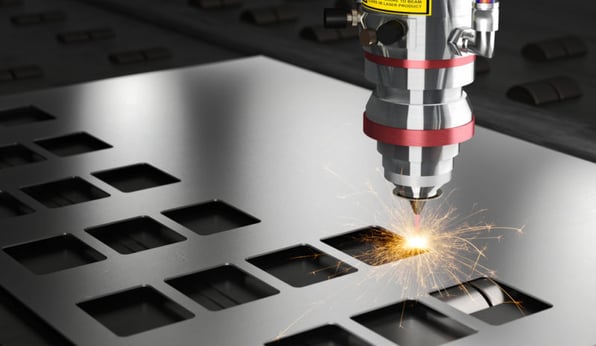 There is no cut a laser cutter can't do - if you want to include your initials in the material, a laser cutter is delicate enough to get it done.
The Laser Cutting Process
Here is how to prepare for any custom laser cutting service and what you can expect once the company receives your order.
Preparation
Before the laser cutting happens, you will need to send in a design to the laser cutting manufacturer. The company will look at the measurements of the piece, and also need to know what type of material you need cut.
Configure the Settings
Once everyone approves the design, the laser cutter company takes your approved graphic and uploads it to the machine. The power, speed, and frequency of the cut are all accounted for before the machine starts to work. Workers alter the settings for the type of material, and the machine goes to work shaping your object.
Processing
As the laser starts, it follows along the path that's been designed up to ensure every edge is perfect. Engineers take safety steps to ensure the material isn't damaged during the process. This may include a protective backing, which protects the material from burning and melting during the cutting process.

Benefits of Laser Cutting in the Aerospace Industry
After understanding the process of laser cutting, you may be wondering how laser cutting can benefit the aerospace industry. There are numerous ways laser cutting is a perfect tool for the aerospace industry.
Flexibility
While welding can be great for the aerospace industry, there are some things welding can't do. Laser cutting allows the engineer to create specific parts that may be too difficult for welders to do by hand. Smaller parts can be cut to perfection, while larger parts can be cut more efficiently.
Creating Delicate Parts
In the aerospace industry, finding components that are lightweight yet capable of handling high wind speeds can be difficult. With laser cutting services, you can cut any material that will be useful for any project. You can use lightweight materials that are strong enough to handle the pressures of flying yet delicate enough to not add too much weight to an aircraft.
Reduced Costs
Reducing costs while creating a durable machine is an important goal in the aerospace industry. Laser cutting services provide quality work for a fraction of the cost, allowing you to save money for more projects. Plus, high-quality workmanship means your parts last longer and you'll save repair costs over time.

Conclusion
Custom laser cutting is one of the best ways to ensure you have a reliable and precise means of completing a project. Laser cutting has been around for a while, and many aerospace companies rely on laser cutting services for their projects since this tried-and-true method is an industry standard. Using laser cutting saves you money, is easy to use, and gives you many options when it comes to creating your design.
Find out more how custom laser cutting can benefit your aerospace company. Contact us today!