At Naimor, we're always aware of the ever-changing fabrication landscape. Having the best technology at your service can make a huge difference when it comes to making the best metal products.
We're happy to announce that we have recently added an Amada LCG 4020 AJ 6KW fiber laser cutter to our metal fabrication repertoire. Below, we'll walk through some of the technical specifications of this new machine and tell you what this means for our customers.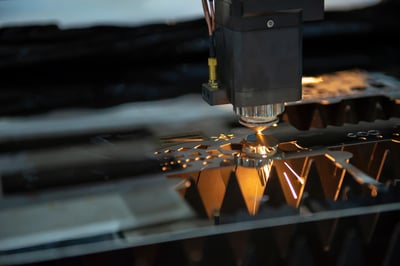 Introducing the Amada LCG 4020 AJ 6KW Fiber Laser Machine
Amada is among the most renown equipment manufacturers out there and the new LCG 4020 AJ 6KW fiber laser machine is one of their best models yet. This innovative piece of machinery employs an advanced structural design that focuses on speed and accuracy.
The laser's technical specifications include:
Proprietary Laser Technology
Amada is the first company to design their own proprietary laser technology through a fiber engine. The machine combines individual laser diode modules to generate an ultra-powerful laser beam that's delivered through the cutting head. This entire process eliminates the need for mirrors and other elements commonly used in CO2 lasers.
Powerful Laser Suitable for a Variety of Materials
The 6KW beam is powerful enough to cut common materials much faster than other lasers and is also suitable for difficult metals like copper, brass, and titanium. Because the diode modules are condensed into one unit, we can easily toggle the intensity of the laser depending on the material we're cutting.
Enhanced Laser Head Design
One of the biggest issues with traditional laser machines is the need for special tools to change the cutting head. The cutting head on the Amada fiber laser machine features a high-speed design with enhanced distance-sensing controls. The lens systems are designed so that they can easily be replaced without the need for additional tools.
Helical Rack and Pinion
The high-speed drive system sits on a newly designed carriage, which in turn is powered by a helical rack and pinion drive. This allows smoother and quicker acceleration, plus enhanced accuracy over previous systems.
Multiple Assist Gases Selection
In scenarios where assistance gas can improve the process, the LCG 4020 AJ 6KW fiber laser automatically detects the right type of gas without any human intervention.
Benefits and Capacity Enhancements
Upgrading our machinery directly impacts our customers, so it's important to us that our customers understand the benefits that come with this new fiber laser machine.
The technical specifications above should give you an idea of how the new laser affects our manufacturing process. Let's take a look at the benefits this will bring to our customers.
Shorter Turn-Around
Time is money in most industries, especially the metal manufacturing world. The new LCG 4020 AJ 6KW laser machine will allow us to provide a shorter turnaround. The laser is so powerful and accurate that we are able to make cuts four times faster than a traditional CO2 machine, without sacrificing quality.
Reduce Costs
Thanks to the simplified design and the lack of external elements like mirrors, the Amada 6KW will also result in reduced costs for our customers. Not to mention the fact that the machine will require less maintenance, reducing the chances of an unforeseen delay.
Expand the Scope of Your Work
Thanks to their proprietary laser technology, you can now use hard-to-cut metals and process common materials at record speeds. With a working range of 4 meters by 2 meters and a loading weight of 920kg, this allows us to expand the scope of your work and employ new materials at a reduced cost.
Put Our Fiber Laser to Work For You
Stay tuned for more updates in our facilities and the world of sheet metal manufacturing.
Want to learn more? Contact us today and our engineers will be glad to help.