The medical industry faces multiple challenges when it comes to manufacturing reliable and premium parts that are easy to clean and sanitize. Naimor has a long history of providing stainless steel medical equipment – such as carts, cabinets, platforms and factory accessories – for the biomedical industry.
Stainless steel does not exhibit any inherent anti-microbial properties like some other metals (steel). Consequently, you can easily clean it with sanitization solutions, allowing hospital staff to rid the stainless steel tool or surface of any contaminants.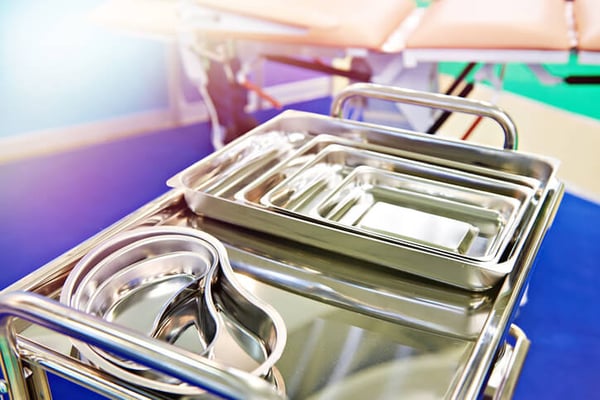 When fabricating parts for medical equipment, we keep the end user in mind. While our 10 years of reputable metal fabrication experience doesn't hurt, it's our company's unified dedication to product quality and customer satisfaction that allows your product to be everything you intend.
Working with our team of engineers includes:
Personalized project management from conception to delivery.
Multiple medical device manufacturing methods at your service from start to finish, including CNC machining, forming, heat treating, welding, finishing, inspection and more.
Value for Medical Equipment Clients
Have a project you need help with but not entirely sure on the specifications? Naimor offers design and engineering assistance to help you solve your problem – and then we manufacture in-house so that we have total quality control over production.
Each order is prepped by our engineers then sent to our manufacturing area where the metal is shaped, cut, folded, or welded to fabricate the parts. Various finishes for your products are also available including metal plating, blackening, anodizing and powder coating.
Your products will be inspected prior to leaving our facility and shipped directly to you. We'll complete the fabrication process from start to finish, allowing for quality control and streamlined service that gets you a fast product turnaround. Naimor is experienced in the fabrication requirements necessary for products used in the pharmaceutical industry.
Medical Grade Materials
If you're looking for metal manufacturing services suitable for a broad range of medical devices, Naimor has the capabilities. Moreover, we also provide parts and components for fitness and health products as well. These medical instruments and fitness products include:
Stainless steel racks, cabinets countertops, and sinks
Dental care equipment
Electromechanical patient chairs and tables
Carts
Diagnosis equipment
Weight-lifting equipment
Engine-powered treadmills
Elliptical trainers
Rowing machines
Quick and Quality Medical Device Manufacturing
Whether your medical product requires close tolerance machining, quality welding, laser cutting, or tooling, Naimor, Inc. is here to help. We combine our years of knowledge and experience with modern tools to achieve competitive, high-quality results on schedule.
Get in touch with our team today by requesting a quote. We look forward to working with you!