This month, a consumer products client came to us to fabricate stainless steel floating shelves, architectural shelves which have become popular in recent years and provide a wonderful minimalist look.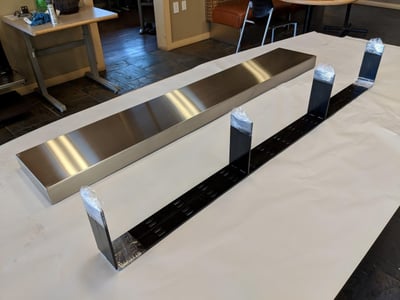 Attention to detail was paramount for these shelves, as they are destined to a home or office environment where aesthetics are very important.
Design and Engineering
Our team researched floating shelves and then designed a simple and strong system of our own. 3D modeling, combined with engineers backed by years of experience in product development, brought these shelves from concept through production.
Naimor designs for the entire process, not just a single part – having a correct end product is only one piece of the manufacturing puzzle. Are the parts optimized for manufacturing? Is the process accurately repeatable? Have time, equipment, and materials been optimized?
Attention to Detail for a Perfect Finish
When done correctly, brushed stainless steel can be drop-dead gorgeous. But, beauty comes with a price: very careful handling. The smallest scratch or dent can ruin an entire face, so the phrase 'handle with care' becomes an understatement when working with these materials.
While there was a great deal of operator skill involved, cutting and forming were the more straightforward parts of the process with these shelves. The real show-stopper with these parts was the welding and polished finish.
It's hard to get a sense for how nice this finished part looks with photos, but this picture is a welded seam – not a bend line: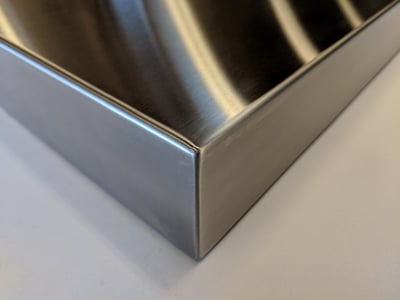 You know something is special when you show this to long-time industry professionals and they say "Wow."
Packaging and Customer Service
These shelves, while light enough to be shipped with a package carrier such as UPS or FedEx, would risk being damaged if sent that way. Instead, we wanted to give our customer the option to send this with a freight company on a crated pallet to avoid damage, which they greatly appreciated.
After all, if we make a great part in the shop but it ends up in pieces on the customer's door, we haven't done our job correctly. We always seek to provide solutions and options for our clients – once a course of action is decided, we can handle the details, such as crating the parts and setting up the carrier.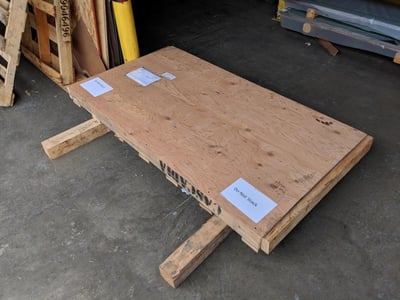 Do you need a manufacturing partner that provides expertise, attention to detail, and proactive solution-based communication? Contact us today to see what we can fabricate for you.