"Are you building the right thing?"
"Are you building it correctly?"
These are the questions that need to be answered by medical equipment companies through a Quality Management System to ensure they follow the Food and Drug Administration CFR Part 820 and/or ISO 13485.
Our medical equipment manufacturing customers establish and follow quality systems to help ensure their products consistently meet applicable requirements and specifications. How does Naimor Metal Fabrication help achieve these goals?
Completing Requirements for Medical Manufacturers
To serve our medical equipment manufacturing clients, we have the capability to complete the requirements to analyze and document formal procedures, train, implement and monitor, take corrective actions if needed, and host external audits.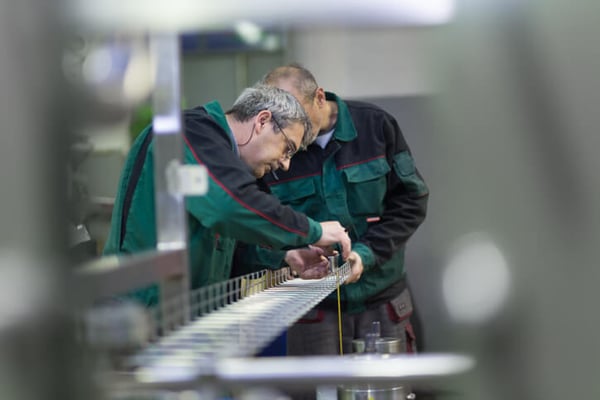 Verification of machinery and equipment usually consists of design, installation, operational, and performance qualification. Qualification of equipment requires balancing or calibration, and re-qualification needs to be conducted if machinery is relocated or when a specific time has elapsed.
Validation is the process of establishing documentary evidence demonstrating that a procedure, process, or activity carried out in testing and then production maintains the desired level of compliance at all stages. In the pharmaceutical industry, it is very important that in addition to final testing and compliance of products, it is also assured that the process will consistently produce the desired tolerances or results.
While regulatory imperative is the driving force behind the creation of a quality management system, at Naimor the process is most certainly not a set of procedures that get stored on a hard drive only to be opened when inspectors arrive.
A Range of Solutions
Verification and validation help us to be more successful and evolve over time. Processes will be added, refined, or eliminated. When used together, they coalesce into something magical. Coupling these two processes helps our organization put preventive measures in place to minimize negative outcomes and maintain superior parts.
Our customers rely on our investment in new technologies and design for manufacturability capabilities. Our technical resources —bolstered by an extensive range of value-added services like complete project management — enable medical equipment companies to focus essential resources on developing their core products. Seamless end-to-end production services help us provide you a range of metal fabrication solutions to meet your medical equipment part needs and documentation requirements.