"Design is not just what it looks like and feels like. Design is how it works." – Steve Jobs
Every project starts with an idea. Our process starts when a client brings their idea to Naimor Metal Fabrication.
When a local construction contractor needed a steel work platform fabricated so that they could have easy access to service an HVAC system located on top of a roof, we were presented with a sketch of their idea and not much else.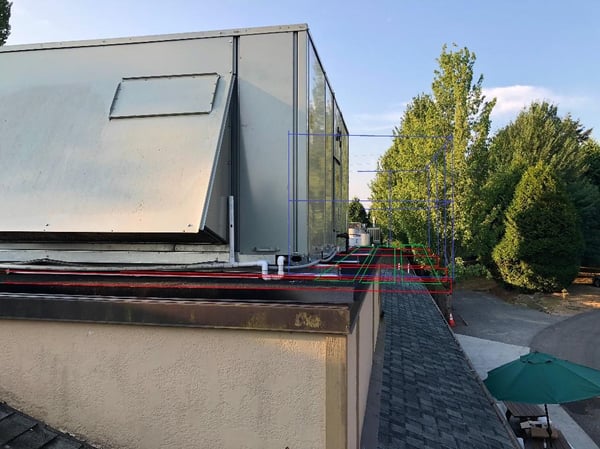 How Do You Get From a Line Drawing to an Assembled Steel Platform?
We began by gaining a full understanding of the design objectives through consultations with the client. Our clients are at the center of everything we do — and our metal fabrication process is focused on supporting the client from initial estimating and design all the way through fabrication and on time delivery. The consultation process provides information to meet client budgets and ensures we have all the information we need to move forward in a timely manner.
Before we do drawings as part of the consultation process, we give our professional recommendation and find a way to make sure the materials, structure, and labor fits the client's budget. Whenever possible, we design for and use standard material sizes. Standard sizes are typically lower priced than requiring special lengths.
At this point in the project, we recommended adding an I-beam under the decking material and that the I-beams would be supported by flat bar. We also recommended the I-beams, railings, and gussets be made of aluminum to reduce the load. For the planking we decided to quote galvanized steel; it's the cheapest and second lightest while still offering a safe weight capacity.
Turning a Concept Into a CAD Drawing
Next, the idea or concept is turned into a shop or CAD drawing — which includes precise measurements and all the appropriate standards to suit a location and function. Created in a universal file format such as DWG flat patterns or step files, simplifies the design process, and the overall cost can be greatly reduced. The cost of raw materials is usually only a fraction of the total fabrication price; the main cost is labor. A key to successful controlling costs is to make sure that shop drawings are correct from the start.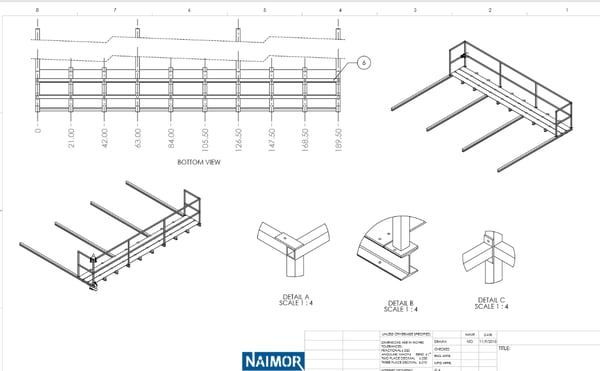 Fabrication Steps to Complete the Process
Once the drawings are completed and approved, the project goes to production. For most jobs, steel fabrication involves several steps to complete the process; such as laser cutting, forming, welding, and finishing. It's the careful planning and execution of these steps that ultimately determines the lead time of the project.
Naimor, Inc. employs some of the most experienced metal fabrication professionals in the industry. Our craftsmen are passionate about their profession — and it shows in every detail. To many, metal fabrication may seem like a simple one-step process, but it is much more detailed and comprehensive than simply pulling metal pieces off the shelf.
Having the space, equipment, and qualified personnel to take on large projects from completion to full assembly isn't for every fabrication company. But, if you're looking to save money, you want your metal fabrication partner to complete as many processes as possible so that there is no need for an extra expenditure of time and money to outsource steps.
Naimor Inc. is distinguished from its competition as a leading large custom metal fabrication company due to one big reason: we have the in-house capabilities to take large projects from design to assembly that many other metal fabricators cannot accomplish. With a modern 34,238 square foot facility and overhead cranes capable of lifting up to 7 tons, we house an exhaustive list of competencies that enable our skilled team of engineers and ASME certified welders to fabricate even the most challenging of large scale projects.
An idea sketched on paper can be taken to completion when the processes are in place to complete the steps. Our construction contractor client came to us with an idea for a safe platform to allow servicing of an out of reach HVAC and walked away with a fully assembled steel platform ready to be installed.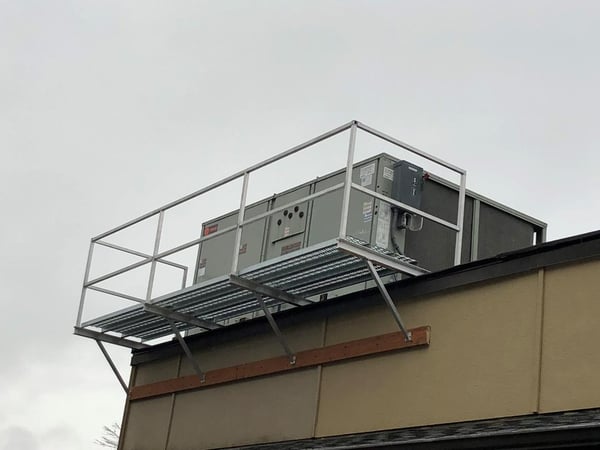 We invite you to read more about how we meet every challenge that comes across our table. Big or small, we build each project from the ground up – from concept to completion, we deliver.