There are many options for metal parts manufacturing, and each offers a set of unique pros and cons. Efficiency, the detail and delicacy of the finished product, and the type of metal used all influence what is the best metal manufacturing tool to use.
If you are looking for a production method that improves your production speed and versatility, then consider turret punching. Turret punching is a good fit for anyone looking to have flexibility in the size of their production runs and their designs, and who need a method with a shorter turnaround time from design to final product. It offers more dynamic manufacturing than other methods, making it a great option for anyone seeking faster, cost-effective manufacturing solutions. Read on to find out more about turret punching and its benefits.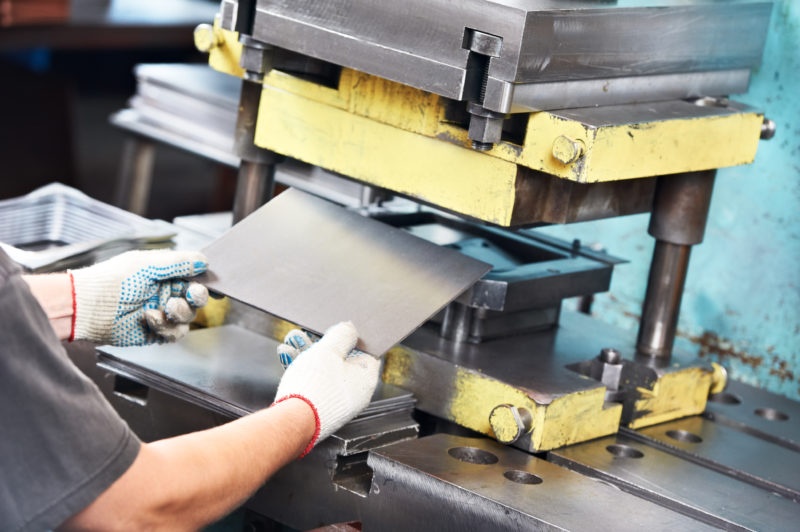 What is Turret Punching?
A turret punch is a type of press punch, used to manufacture metal parts by punching the shapes out of large blanks. The machine operates by using two turrets that function as a die and punch, with one below the blank and one above. They move in perfect sync with each other to punch the shapes from the metal.
Turret punches address the greatest restraints of punch presses: the cost of the machine itself and the creation of custom press tools. While punch presses are good for mass production, they inhibit presses from being used for smaller orders or prototype manufacturing. Turret punches work by using a set of standard punch tools, usually around 60, to create shapes. Instead of a single punch, turret punches work in a series of strokes, using standard shapes like squares, hexagons, and circles, moving around the blank to create specific pieces.
Five Benefits of Turret Punching
1. Cost and Time Efficiency
Because a turret punch uses multiple standard tools in turn to make the parts, it is more time and cost efficient than a typical press punch, allowing for manufacturing or prototyping without the need to make a specialised punch. The variety of configurations of the tool makes for a lower cost and higher speed production, all with great flexibility and ease.
2. Flexibility of Shapes
The die and punch turrets can be arranged anywhere on the material, allowing for wide flexibility in the shape and size of the piece produced. Multiple punches can be made for more complex shapes, while simpler cuts may only require a single punch. Rounded corners, detailed edging and other requirements can be met by turret punches, just as with more standard punch systems. Bear in mind, however, that every time another punch is needed, it can slow the process.
3. Modifiable Designs
Unlike a typical punch press, which requires that the design be solidified and the custom punch be made before production can begin, turret punches allow the manufacturer to alter the design even after production has started. This means that the turret punch machine can be used for prototypes without costing both time and money when a design is changed, because there is no need to remake a costly specialized punch every time the design is edited.
4. Flexible Tools and Machine
Unlike a specialized punch press, the turret punch has a single set of tools and a single machine that can be used for a wide variety of production. It is optimized for smaller runs of production, and because the machine itself works with tools that are lighter weight, it may also use less energy to operate than another punch presses.
5. Faster Stroke Speed
Intermediate sized turret punches can achieve 80 to 300 hits per minute. Of course, you must take into account the fact that every production piece requires far more individual punches than a standard punch press would. However, the press itself does operate much faster than a heavier standard punch press. This, like many other features, can be time-saving and more efficient.
Turret Punching Solutions For Your Design
If turret punching sounds like the solution you need, then we would love to hear from you and help you start your production! Contact us with questions or to get a quote. We have two facilities, located in Redmond and Bellingham, both ready to help you with your production and manufacturing needs.