In recent years steel has become the material of choice for architectural metal fabrication, especially interior and exterior metal stairs. There are numerous reasons behind this trend. Steel enables extreme versatility of design, whether the design style is simple, elegant, traditional or modern. This opens up endless design possibilities to architects and designers alike.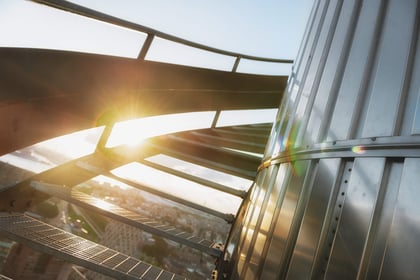 Staircases constructed from steel are predominantly chosen for their durability and high resilience to drastic changes in the environment, as opposed to wood staircases and make for an amazing addition to any home or commercial infrastructure.
Two types of steel commonly used for Custom staircases
Most metal staircases are made from either structural steel or stainless steel. These two types of metals are of the finest quality and provide the most durability and versatility.
Structural Steel
Structural steel is mostly used in modern construction. It can be found all around us in safety road barriers, traffic sign poles, steel facades, roof construction… and previously mentioned staircases. The mechanical properties of structural steel are determined by its chemical composition and fabrication process. Steel is composed of iron and carbon with the addition of a wide range alloy elements, depending on the end purpose. Fabrication processes are a huge topic and will be discussed in future articles.
Stainless Steel
Stainless steel is another metal that is widely used in staircases and railings, especially for indoor applications. Stainless steel is named for the fact that it does not stain, corrode or rust as easily as ordinary (structural) steel. These properties combined with its low maintenance, relatively low cost, and familiar luster that gives additional value, make it an ideal base material for a custom staircase.
Five Custom steel staircase types and their fabrication
When handled with appropriate detail and design, we believe a steel staircase can be amazing addition to any home, office, building and shopping center. Stair treads cut out of metal are certainly not the most expensive option, but metal is the most versatile material option because of the many possibilities it offers in terms of style and finish. The following list describes some of the top types of industrial stairs and railings that can be fabricated by Naimor Inc.
Straight Staircases
Straight staircases are certainly one of the most common and widespread of all the architectural designs. If you want something simple, and practical, then a straight staircase would be a good choice. These stairs have the least complex fabrication process and consequently are easy to install. Customized straight stairs can also be given a complex railing design if you want them to be attractive yet simple to use. Our professional staff, using the latest tools and CNC laser cutting machines, can make any shape and provide the best quality product.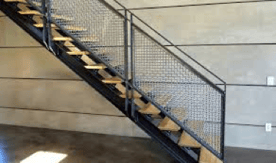 Metal Spiral Staircases
Metal spiral staircases follow a helical arc like the shape of a spring, and they are suitable for areas with limited space or compact places where you want to save space. Additionally, this type of custom steel staircase leaves a memorable impression because they favor aesthetics over functionality. A disadvantage is that only one person can go up or down the stairs at the same time and it is difficult to carry large items.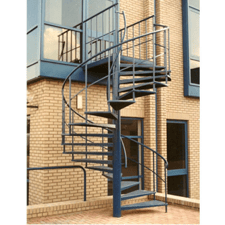 Curved Staircases
Curved staircases differ from spiral staircases as they do not have a central supporting pillar. They are also not limited to a circular shape and may be built in an oval or elliptical shape, giving an extremely elegant appearance. This is the reason why they are almost always located at the entry or focal point, where it makes the greatest first impression.
Custom curved staircase can be fabricated in beautiful and complex shapes, and they are considered as by far the most difficult to build of the various types of stairs. In fact, building curved stairs represents a pinnacle of achievement for any metal stair fabricator. Our team of talented engineers and craftsman has the experience, capabilities, and skills to ensure parts are cut to tolerance to deliver the highest quality custom curved staircase.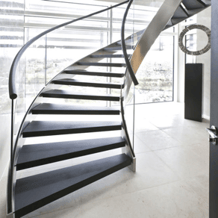 L Shaped Staircases
L shaped stairs also known as quarter turn stairs are a variation of the straight stair with a bend in some portion of the stair. They don't have curved steps but feature a flat landing to make their turn at the bend transition point. This is useful when the space required for a straight staircase is limited, and it gives the possibility of locating staircase in a corner. The presence of a landing gives the provision of a resting place, making it easier to walk, and the presence of a landing makes the turn far safer because of reduced distance of fall.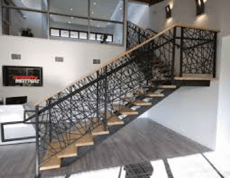 U Shaped Staircases
U shaped stairs also known as half turn stairs are constructed of two parallel flights of straight stairs joined by a landing that requires a 180 degree turn in the walk line. If a third flight is inserted into the middle of the stairs, it would become a double L stair. Like L shape stairs this type of stair design is safe, convenient and has great functionality.

Options for finish
There are also many options when it comes to the finish of metal stairs. Powder coating is widely used as produce a high quality and durable finish. Used as protective and decorative finish, powder coating is available in an almost limitless range of colors and textures, so it is very useful for metal stairs. For functional staircases in exterior locations a hot-dipped galvanized finish is best as it enables decades of stair durability.
Complying with Safety regulations: IBC and OSHA
We are fully committed to compliance with actual safety regulations and our team will ensure that your staircases are code compliant and perfectly constructed. You can be assured metal staircase construction was carefully considered. With so many types of stairs, how can you tell which standards yours custom designed need to follow?
Regulatory agencies make the distinctions between stairs for the commercial use and those for the industrial. The International Building Code (IBC) regulates any type of staircase used by the public. These regulations ensure the safety of every type of person — including children and the elderly. Stairs in environments that are not intended for public use are regulated by another regulation, Occupational Safety and Health Administration's (OSHA) Fixed Industrial Stair regulations. This regulation governs design, construction and use of both interior and exterior stairs used to access elevated platforms, machinery, tanks or equipment.
Who can you trust?
When it comes to fabrication of your custom designed metal staircase, Naimor Inc. has the extensive experience and capabilities required to bring your ideas to the reality. Steel staircase fabrication isn't the type of job you want to trust to anyone that has a little skill in metal processing. Metal work is a very precise type of work. It takes years of practice and experience to perfect—not to mention the right equipment and right personnel to get the job done right and on time.
At Naimor Inc, we make the process of fabricating your custom metal staircase simple. Contact us, tell us a bit about your project, our team will work closely with you and your architect to help to explore your options and make the best possible decision for your fabrication needs. In case your designer has already developed cut files, our in-house engineers will review the custom design to ensure the most efficient cut layout.
Our company has the skills and expertise to perfectly execute your custom metal staircase project. Whether it's a single staircase or multiple, we will make your design a reality.