Stated simply, hardware insertion is the process of adding fasteners to sheet metal parts. Hardware insertion machines allow for significantly faster hardware insertion processes.
Compared to manual insertion, they improve quality and increase productivity. Hardware insertion is one of the most important aspects when building parts.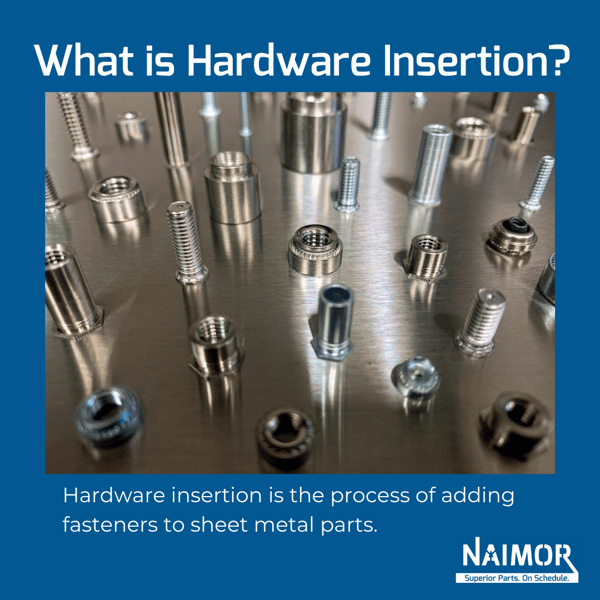 How do Hardware Insertion Systems Work?
Hardware Insertion presses utilize holes that are cut by high precision machines, which increases the precision of the fasteners location.
Using the holes or pockets that are fabricated into the parts, the insertion press uses a hydraulic ram and tooling to swage the fastener into the part.
This insertion machinery gives shops the ability to securely install a wide variety of nuts, fasteners, stand offs, and many other types of hardware.
Hardware is inserted in the locations called out on the part specifications form. The part with the hardware is placed in the press and then the operator auctates the press which firmly seats the hardware into the part due to hydraulic force.
Each different type of inserted hardware has an upper and lower tool to ensure it is properly installed without damaging surrounding material.
Press fit fasteners are self clinching fasteners and can reduce the roots of the tapping or masking threads for parts that require surface coating. PEM is an industry leader in this type of fastener.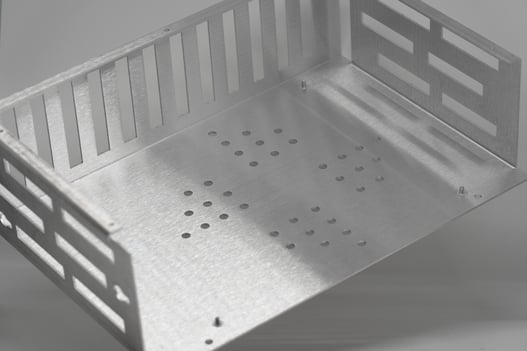 Why NaiMor?
At NaiMor we pride ourselves on our quick response times and speedy production rates for all our finished parts. We also employ operators who are deeply skilled and experienced.
We use hardware insertion processes, such as riveting and PEM, to insert a wide range of different metal components. This includes threaded standoffs, threaded studs, threaded nuts, and more.
At NaiMor we have a Haeger 824 Plus Insertion System. This enables us to properly seat a large variety of fasteners in less time.
NaiMor guarantees top tier work, all done in house. See our blog post for further information on our hardware insertion processes!
Check out our instagram for many more photos and videos of our work as metal fabricators!