Ever since the earliest human ancestors wanted to cross water, people have been designing watercraft for the purpose of...well, not sinking to the bottom of the ocean. What started with logs developed into carved dugouts, and then into plank-on-frame construction. In today's modern world of aluminum boat design, there's a hull shape for nearly every application on the water one can think of.
Ultimately, choosing the right aluminum boat design to fabricate and turn into your boat depends on how the boat will be used.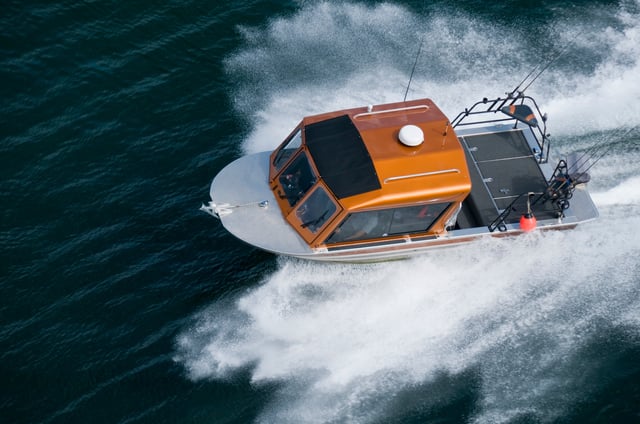 There are a number of naval architecture and boat design firms to work with. When choosing your designer, consider the factors of experience, proven designs, customizability, and customer support through the entire process.
At Naimor, we frequently work with aluminum boat designers, such as Specmar and Cope Aluminum Boat Designs, who refer customers to us who are ready to purchase materials and have aluminum boat kits cut and formed. Once they provide us with the needed CAD data to router cut parts and form using CNC press brakes, we finish the parts and prepare them to be shipped to the customer on a pallet.
Finding the Aluminum Boat Design that's Right For You
Boats come in two varieties: monohulls and multihulls. As their name implies, monohull boats have a single hull body, whereas multihull boats will have two, three, or more. Overall there are far more monohull boats and boat designs available. Catamarans are multihull boats with two hull bodies and are the most common of the multihulls. Trimarans will have three hulls, and so on. As with all boating, there are advantages and tradeoffs to each type.
In general, monohull boats are not as statically stable as catamarans or other multihulls,meaning they are more susceptible to the rocking side-to-side motion from waves. It's debatable as to which is more comfortable overall, as sea conditions and heading will really impact performance. In sailing, monohulls can point closer to true wind direction than multihulls, but won't be able to compete for speed when sailing downwind – especially if you're able to "fly" one of the hulls out of the water.
Within these two hull categories, there are numerous aluminum boat designs. If it can be done on the water, there's a boat for it.
Aluminum Drift Boats
These boats are largely based on a design that first appeared on the McKenzie River in Oregon in the 1940s and 1950s. The 'continuous rocker' design shows an arc from bow to stern, and it allows the boat to spin about its center for ease of maneuvering in rapids.
Aluminum drift boats are primarily built for river fishing and are a very popular design found here in the west. These boats are generally small, easily trailerable, and versatile. Some aluminum boat designers such as Specmar offer plans that can be assembled without the need of special extrusions, which lowers costs and simplifies the build process.
Aluminum Monohull Boats
These come in all sorts of shapes, sizes, and configurations. From small skiffs and workboats with open interiors to large cabin cruisers, monohulls are designed and built for every conceivable water activity. Monohull boats tend to be designed for a specific activity, but popular pleasure boats can usually handle a range of interests.
Aluminum Catamarans
Prefer not to feel the rocking of the ocean and needing more leisure space on deck? Catamarans have a higher initial stability than their monohull brethren and can also afford more deck space for the comparable length. The biggest trade-offs are cost and materials. Workboats and passenger ferries are popular choices for the catamaran design.
Aluminum Rigid Inflatable Boats (RIBs)
These boats have an aluminum hull surrounded by an inflatable tube of hardened rubber. Their lightweight design allows for faster hull speeds with less power, and the air in the tubes cushions the riders from some of the impact of hitting waves.However, there is a higher risk of puncture due to the soft nature of the tubes. These are popular for dinghy tenders, diving boats, rescue boats, and for go-fast applications such as Coast Guard or Border Patrol boats.
Landing Craft
When you need to load and unload heavy cargo to remote locations via a waterway, this is the boat for you. These boats come with a front gate that can be lowered on shore. Some designs even incorporate a mechanical "walking" system that will haul the boat on shore to make loading safer and more secure. You tend to see these craft in waters around locations with limited resources , such as the islands of the coast of Alaska. Don't be fooled by the flat bow; many designs offer incredible performance and speed in addition to cargo capacity.
Specialty Boats
Having the right tools for the right job – that's what these boats are all about. Oyster scows, seine skiffs, bowpickers, harbor workboats and barges all fit into this category. With aluminum, every boat can be custom-made, so there are many different designs for the myriad applications where work needs to be done on the water.
Turning A Design into Reality
Communication among the customer, designer, and marine fabricator is critical to speed production, improve accuracy, and minimize both shop time and man-hours. Download our 7 Steps Process to understand how we fill the gap between a great aluminum boat design and a precision-cut boat kit that's ready to assemble on time and within budget.